A Year in Shorts Day 12: Beep Prepared
If Tom and Jerry can be considered the kings of animation, Wile E. Coyote and the Road Runner are sort of like the court jesters. Originally created as a parody of the famous cat and mouse duo (how exactly does one parody something that was funny to begin with? I digress), the Coyote and the Road Runner shorts soon became wildly popular in their own right. So it's a little surprising that the duo only ever received one Oscar nomination, for the 1961 short Beep Prepared.
(via IMDB)
Directed by Chuck Jones and Maurice Noble, Beep Prepared follows the typical Coyote and Road Runner formula, and that's hardly something to complain about. Admittedly, none of the gags in this short represent the duo at their best (with nary a train tunnel painted on a cliff wall in sight), but they're consistently funny and the whole thing is brisk enough to never get boring.
He might not be the real Batman, but at least he's not wearing hockey pads.
(via TV Tropes)
Altogether, it's hard to see exactly what set Beep Prepared apart from all the other Road Runner shorts to get it noticed by the Academy. It's funny, of course, but Wile E. Coyote is always funny. Perhaps it just wasn't a great year for animated shorts; judging by two of its fellow nominees, Nelly's Folly and The Pied Piper of Guadalupe, it's entirely possible.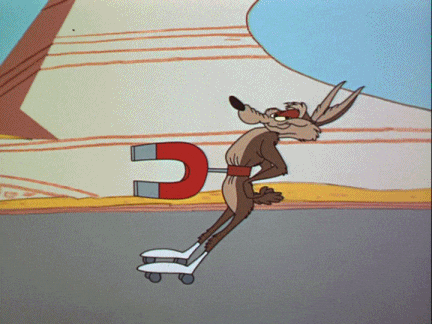 Then again, if a coyote on roller skates isn't Oscar worthy, what is?
Still, it doesn't really matter why they nominated it, because the point is they did, and as a result I got to spend a day watching and writing about a Road Runner short. And trust me, there are worse ways I could spend a day.
I could have had to write about a Tweety short!
Keep up with all the Oscar Baiting here on Letterboxd!
"Beep Prepared" is available to watch on HBO Max.
The Great Oscar Baiter is a not-for-profit work of criticism. All images used within are property of their respective owners and are protected under Fair Use.